Susan Barlow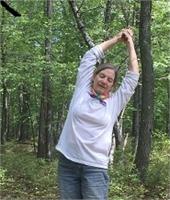 Teaching yoga lets me share the benefits that I receive from yoga—relaxation, challenge, mobility, self-observation, self-improvement, and meeting others interested in the philosophical and health benefits of yoga.
I started practicing yoga in the 1970s. In 2017 I completed the 200-hour teacher training at Samadhi yoga in Manchester, and teach there as well as at other local studios. I have taught tai chi since 2008.
My goal as a yoga teacher is to bring yoga to everyone who is willing to give it a try! May I share my appreciation for yoga with you?
Susan Barlow instructs the following:
Gentle classes are great for beginners—and everyone interested in a slow, peaceful practice. This class includes basic breathing exercises as well as a variety of standing, sitting, and supine postures. It's a way to recharge while meeting some physical challenges.




This practice is a bridge between gentle and vigorous yoga, and explores a variety of foundational poses (standing, seated, and on the floor) and breathing exercises. It provides a low-key workout and deep restoration.