Suzanne Hathaway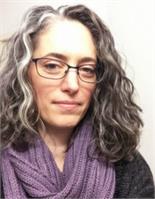 The first time I fell in love with yoga was in Kindergarten. My teacher, Mr. Wielgorecki, led our class in practice each day before rest time. It made my heart sing, connecting me to something deeper than myself that I didn't understand. When I rediscovered yoga in my mid-twenties, it felt like I stepped into a forgotten part of myself that I'd known forever. A number of years later, I fulfilled my dream of becoming a RYT 200 certified yoga teacher through Samadhi Yoga Studio in Manchester, Connecticut. I'm currently studying for my advanced level yoga teacher training. My goal is to foster a welcoming, safe and nurturing environment for people to explore and develop their yoga. My classes focus on alignment and sequencing meant to open, strengthen, lengthen and heal. I look forward to sharing my love of yoga with you!
Suzanne Hathaway instructs the following:
This practice is a bridge between gentle and vigorous yoga, and explores a variety of foundational poses (standing, seated, and on the floor) and breathing exercises. It provides a low-key workout and deep restoration.




This is where we begin. This class is offered to the novice yogi as well as those with more experience that want some fine tuning.

Emphasis is placed on developing safe posture alignment in foundational poses, strengthening the musculature of the body, and breathing in ways to support the mind and body. All of these help broaden your understanding of starting a yoga practice and guide you to enter a place of curiosity about your concept of your own limitations.

There are more hands on assists in this class. The only requirement is your open mind.